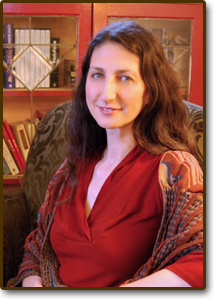 I use the Sacred Elements of Earth (health, home & livelihood), Air (reason, awareness & communication), Fire (creativity, integrity & will), Water (emotion, temperance & dreams), and Spirit (mystery, connection & and that which is eternal) as diagnostic tools to reveal strengths and imbalances.  I use trance (also called hypnosis), neurolinguistic programming (NLP, or shifting thought and behavior patterns) and good old fashioned talking it out, to discern what is real from what is imagined.  My goal and intent is to support you in forging a grounded, authentic relationship with yourself, your beloveds, your communities and your Mysterious Ones.
I am a certified mediator and hypnotherapist and I am initiated in two spiritual traditions.  An internationally recognized teacher and workshop facilitator, I have worked with individuals, couples and groups in the spiritual and self empowerment movement for twenty–five years.  I make my home in SE Portland, where I spend my spare time gardening, making soup or just sitting and reading on the porch swing.
Credentials
Reclaiming and Feri initiated 1995 and 2002 respectively.
2001 Mediation Certification and Training through Confluence Center for Mediation and Training; Portland, OR.
2007 Hypnotherapy and NLP certification and training though Apositiva Institute; Portland, OR.